Guadeloupe
Copyright: Jakob Fischer / Shutterstock.com
Guadeloupe
The unique main islands of Guadeloupe, Basse-Terre to the west and Grande-Terre to the east, shaped like the wings of a butterfly, offer travelers a plethora of activities and opportunities to explore. The landscape is extraordinarily diverse and features deserted beaches and mountain ridges as well as mangrove swamps and even a spectacular volcano, La Soufrière. The preservation of the rich nature of Guadeloupe is a priority to the authorities who put special effort into the protection of sea turtles and the cleaning of the coastline and rivers. Discover the French Caribbean's greatest secret and experience the untouched nature of Guadeloupe, along with its unique blend of Creole and French cultures.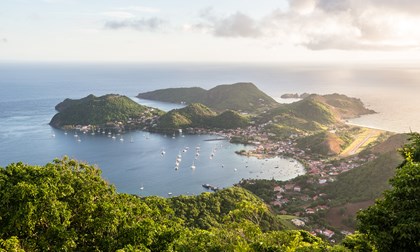 Copyright: Jakob Fischer / Shutterstock.com
The butterfly-shaped islands of Guadeloupe, a French overseas territory in the Lesser Antilles, are one of the Caribbean's best-kept secrets. Travellers in the know have caught on and begun visiting this mesmerizing archipelago and the city of Pointe-à-Pitre to enjoy the fascinating mix of French tradition and Creole culture, the overwhelming natural beauty found in these islands, and the relative scarcity of tourists. With a burgeoning hotel infrastructure and an important cruise port welcoming seafarers, there has never been a better time to visit.