Namibia
Copyright: Vadim Nefedoff/Shutterstock.com
Namibia
Namib – the oldest desert in the world – gives Namibia its name and shapes the landscape of the region. Namibia's natural beauty is difficult to match and is characterised by the perceived otherworldliness of these surroundings. Sharp mountain ranges and deep canyons run through the heart of the African country and are home to a diverse bird and wildlife. Shipwrecks dotting Namibia's notorious Skeleton Coast stand symbolic of the fact that humankind here is secondary to nature. Nonetheless, the human history of Namibia is fascinating, marked by colonial legacy as well as a number of distinct ethnic groups and indigenous tribes still maintaining traditional ways of living.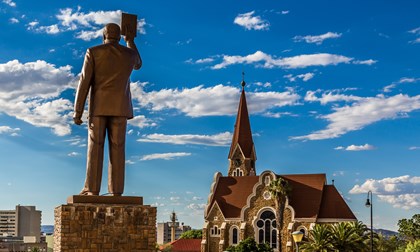 Copyright: Vadim Nefedoff/Shutterstock.com
Windhoek is at Namibia's centre in more ways than one: apart from being the country's main political hub by design, it also happens to sit in its very heart geographically, making the city an easy stop over on the way to Namibia's spectacular natural attractions. Some of those include the Namib-Naukluft National Park, with its striking Sossusvlei and Deadvlei, Etosha National Park with free-roaming indigenous animals, and the endless stretch of ghastly, striking Skeleton Coast.