Seychelles
Copyright: alpinenature/Shutterstock.com
Seychelles
The Seychelles is an enchanted archipelago off the East African coast, with 115 islands surrounded by turquoise waters of the Indian Ocean. Victoria, the little capital, is buzzing with Creoles and market shoppers from all over the world, but white sandy lagoons are never too far to offer peaceful seclusion in a bright heavenly setting. Whether you stay on the main island, Mahé, or take the ferry to Praslin or La Digue, you'll see beaches shaped by large granite rocks, sheltered by lush mangrove forests, laid-back locals, giant Aldabra tortoises, and the colourful marine life of prime snorkeling spots.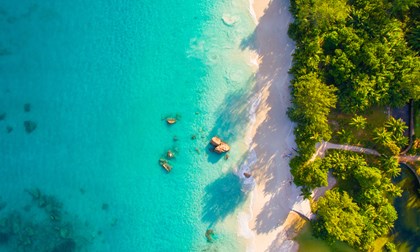 Copyright: alpinenature/Shutterstock.com
European explorers took what today is Praslin Island's nature reserve to be the original Garden of Eden, and no wonder – the primeval forest of Vallee de Mai has changed little over millions of years, and giant Aldabra tortoises still roam the archipelago populated by an incredible diversity of endemic plant and animal species. Out of the 115 islands that make up the Seychelles only 12 are inhabited – by Homo sapiens, that is – making for splendidly pure natural landscapes, unspoilt beaches, and some of the world's most fantastic diving.